Without health insurance, many are unable to access the health care they need.  The Kentucky Primary Care Association (KPCA) is proud of our long partnership with the Kentucky Health Benefit Exchange (KHBE) to help Kentuckians gain access to insurance coverage through the kynect Health Benefit Exchange. By connecting with a kynector, formerly called an Application Assister, Kentucky residents can get free application and enrollment assistance and/or education on options and issues affecting applications for both Medicaid, K-CHIP, or Qualified Health Plans through HealthCare.gov.
Our kynectors will become your best advocate, helping you to identify and to address informational and social need hurdles that might otherwise not be overcome without experienced help. KPCA kynectors link individuals up with resources and go the extra mile to explain complex health coverage information, and are available to help you year-round at no cost.
If you need enrollment assistance, have an upcoming community event where attendees may benefit from free insurance education, are interested in inviting a kynector to speak with your business or at an upcoming community meeting, or if you would like a local kynector to provide an enrollment event during annual Open Enrollment (November 1 – December 15 yearly), please review our KPCA kynector by county list to find someone local to help you in-person or over the phone. We have both regional kynectors available at member clinics in South Eastern Kentucky and Connecting Kids to Coverage kynectors (specializing in helping children and parents) available across Kentucky.
If you have any questions or need additional help connecting with someone in your area, please contact Carol Adkins, KPCA Community Engagement and Outreach Coordinator at 502-545-8812 or visit www.KHBE.ky.gov to find a kynector near you.
Medicaid Managed Care Organization 2021 Open Enrollment FAQs
1. What are the dates of Open Enrollment? November 2 through December 15, 2020.
2. What is Open Enrollment? Open Enrollment gives Medicaid members in managed care a chance to change their Managed Care Organization (MCO). Medicaid members are not required to participate in Open Enrollment.
3. What MCOs are available?
- Aetna Better Health of Kentucky
- Anthem Medicaid
- Humana Health Horizons
- Passport Health Plan by Molina Healthcare
- United Healthcare Community Health Plan
- WellCare of Kentucky
4. What if I do nothing during Open Enrollment? You will not lose Medicaid coverage if you are still eligible or if you do not participate in Open Enrollment. You will keep the same MCO.
5. How do I enroll with another MCO? Call 1-855-446-1245 or 1-800-635-2570 between 8:00 am and  6:00 pm to talk with a Medicaid Services Representative or online at www.kynect.ky.gov
6. If I change MCOs during Open Enrollment, when will my coverage start with the new MCO? January 1, 2021
7. I had Passport and heard that someone bought them. Will my insurance change? The new name of your insurance is Passport Health Plan by Molina Healthcare. If you want to stay with them, you do not have to do anything. You will get a new card before January 1, 2021. If you would like to
change MCOs, please call 1-855-446-1245 or 1-800-635-2570 between 8:00 am and 6:00 pm to talk with a
Medicaid Services Representative or online at www.kynect.com.
8. I heard that there was a court case around Kentucky Medicaid. Is there something I need to do?
No. You are able to change your MCO during Open Enrollment if you choose. If you want to stay with your current MCO and are still eligible for Medicaid, you do not have to do anything.
9. Where can I go to get information about the MCOs? See the document that displays each MCO's value-added benefits. You can also visit their websites or call them. See below:
Aetna Better Health of Kentucky 1-855-300-5528   www.aetnabetterhealth.com/kentucky
Anthem Blue Cross Blue Shield 1-855-690-7784 www.anthem.com/kymedicaid
Humana Healthy Horizons in Kentucky   1-800-444-9137 www.humana.com/medicaid/kentucky-medicaid
Passport Health Plan by Molina Healthcare 1-844-778-2700 www.PassportHealthPlan.com
UnitedHealthcare Community Plan  1-866-293-1796 www.uhccommunityplan.com/ky
WellCare of Kentucky 1-877-389-9457 www.wellcare.com/Kentucky
10. What if I change my MCO during Open Enrollment and then change my mind? You can change your MCO at any time
during the Open Enrollment period, which is November 2, 2020 to December 15, 2020. You also have 90 days after any
MCO change to choose another MCO.
11. What if I am a foster child? Children in foster care, adoption subsidy, dually committed youth and former foster care
will be part of the new Supporting Kentucky Youth (SKY) program. Aetna is the contracted MCO to serve those
members. Coverage starts on January 1, 2021. Members will be automatically enrolled in Aetna SKY and will receive a
new card.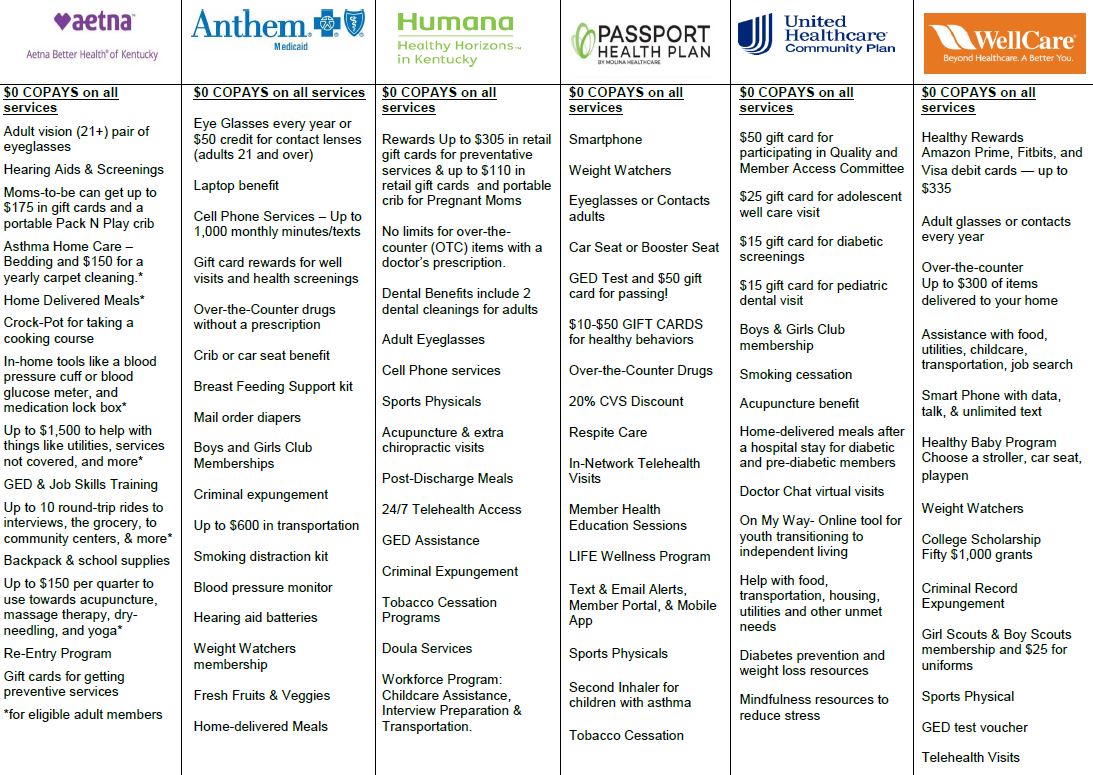 KPCA Region 8 Certified Kynectors by County
Bell County
Tracey Keene
606-309-7939
tracey.keene@gracehealthky.org
Breathitt County
Angela Burns
606-666-9950 ext. 2204
Clay County
Andrew Byrd
606-594-4889
Floyd County
Regina Crum
606-587-2200 Office
Harlan County
Tammy Bryant
606-337-3500
Johnson County
Kathi Chitti
606-791-8171 Cell
606-349-5126 Office
Knott County
Tammy Weddington
606-216-2117 work cell
Knox County
Carla Henson
606-309-1462
Carla.henson@gracehealthky.org
Laurel County
 Mike Wynn
606-515-8843
Lee County
Angela Burns
606-666-9950 ext. 2204
Teresa Herald
606-567-5253
Teresa.herald@juniperhealth.org
Leslie County
Amanda Browning
606-216-1753
Letcher County
Shawn Finn
606-633-4871 ext. 2223
Magoffin County
Melinda Mitchell
606-349-5126 Office
606-791-8154 Cell
Martin County
Cara Begley
606-626-6099
Owsley
Charlie Havicus Johnson
606-593-6395 ext. 5027 
Perry County
Barbara Calhoun
606-216-6119
Pike County
Georgia Funk
606-637-6377 Office
606-794-4656 Cell
Whitley County
Kathy Oller
606-595-7626
Wolfe County
Helen Kay Spencer
606-495-8304
Bath, Bourbon, Menifee,
Montgomery, Nicholas, Powell
Jennifer Trimble
Sterling Health Care
859-585-8002
859-404-7686
Carroll, Gallatin, Owen
Angie Meither
Triad Health Systems
ameither@triadhealthsystems.com
859-912-5173
502-484-2595
Caldwell, Daviess, Henderson, Hopkins, McLean, Union, Webster
Tara Tapp Kolodey or Lainie Beckner
Health First Community Health Center
tkolodey@hfchc.net
lbeckner@hfchc.net
1-270-215-5017
1-877-667-7017
Jefferson County
Connie Manley
Shawnee Christian Healthcare Center
connie.manley@shawneehealthcare.org
502-303-6790
502-778-0001
Debbie Baker
Family Health Centers
502-396-9710
502-772-8182
Precious "Sha" Ford
Family Health Centers
502-702-3564
502-772-8182
Tamika Whitfield
Family Health Centers
502-612-0896
502-772-8182
e-mail: twhitfield@fhclouisville.org
Diedra Young
Family Health Centers
502-565-5023
502-772-8182
Fayette County
Michelle Hernandez
HealthFirst Bluegrass Inc.
mihernandez@heatlhfirstlex.com
859-285-9791
859-288-2425
Boone, Campbell, Kenton 
Christine Wuest – Trilingual: Spanish, French, English
HealthPoint Family Care
CWuest@healthpointfc.org
859-655-6184
KPCA Social Care Platform
Aunt Bertha's mission is to make human service program information more accessible to those in need in order to help more people reach self-sufficiency. Aunt Bertha picks up where Uncle Sam leaves off by making it easy to find food, health, housing and education programs based on need.
Enter your zip code below to find offerings in your area!

QuestionPro
offers a suite of
features
and question types - all for free. We now can run unlimited surveys and gather unlimited responses!